The league file can be found here: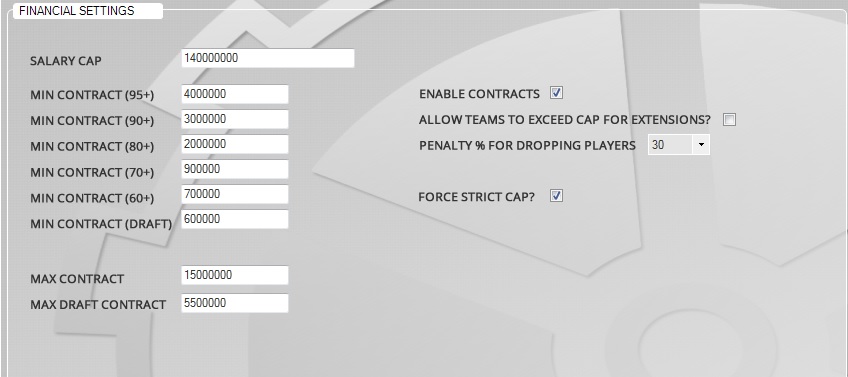 Extensions
All extensions will be done in game. DDS: Pro Football 2016 has a built in engine for determining if a player will sign with you, and currently they will only sign for the amount they ask for. The only way to sign a player who does not wish to extend is to designate him as a franchise player or Tag him as a Restricted Free Agent if eligible. (see below)
Franchise Tags
GM's can designate one player with the Franchise Tag prior to the end of each year. Franchise tag salaries will be either an average of the top 5 salaries at the player's position, or 120% of their current contract, whichever is greater. The length of the Franchise Tag contract will be only 1 season and GM's will not be able to cut their designated Franchise Tagged player.

Restricted Free Agency
A Restricted Free Agent is defined as a player with less than 3 year's experience in the league set to become a free agent.  A GM is allowed to tag two players with under three years' experience as an RFA and prevent that player from hitting the free agent market. However, RFA's can be signed to offer sheets by other teams and those other teams will provide each team with draft compensation depending upon the tender. Teams trying to sign a player to an offer sheet must make an offer of at least 3 years and offer more than the round tender dollar amount. If numerous teams make offers for a player, the highest offer of total dollars  will win. Example 3 years at $7 million ($21 million) per year beats 4 years at $5 million per year ($20 million).
1st round Tender = 2 years $4,500,000
2nd round Tender = 2 years $3,500,000
3rd Round Tender = 2 years $2,500,000
4th Round Tender = 2 years $1,500,000
5th Round Tender = 2 years $800,000
Keep in mind that if you sign a player to an offer sheet you will be required to give up the draft pick in which the player was tendered. If you don't own the pick in which you are offering for a player then it will move down to the next lowest round.
Example:
Team A offers a contract to a player with a 2nd round tender, but Team A does not own a 2nd round pick. Team A will now be required to give up a 1st round pick for the player. A list of the tagged RFA's will be provided at the end of each season by the commissioner and teams will be required to fill out a google form provided by the commissioner for the player in which they plan on signing to an offer sheet.
Hometown Discount Player
Each GM can choose one player at the end of each season who is currently under contract with the team to 'restructure' their contract to $1 million less.  Example: Player is under contract for 3 years $10 million, GM chooses said player to restructure going into their next season. Players new contract is 2 years $9 million.
Releasing Players
Players that are released will result in the GM being responsible for 30% of the players per year contract. Example: Player is signed for 3 years $10 million a year and is cut after the first year of his contract. The GM will be responsible for $3 million a year over the remaining 2 years.  
Roster Requirements
There will be a 53 man active squad along with a 10 player practice squad. Total number of players on a roster is 63. Placing players on injured reserve will not count towards your team's active roster or practice squad.
Practice Squad Eligibility
Practice Squad is meant to develop players and therefore will not allow established veterans to be placed on it. Players who are at most 27 years old are allowed on practice squad. A player over the age of 27 is not allowed to be a part of a practice squad. If a GM is found to have a player over the age of 27 on the practice squad, the commissioner will cut the player and will make the original GM that owned the player wait at least one sim before giving that GM the opportunity to resign that player.
Practice Squad Claims
All players on a team's practice squad are able to be claimed by another GM. If a practice squad player is claimed by a GM, that GM will be required to hold that player on the Active Roster. If the player is ever found to not be on the active roster for that season, that player will be returned to the original GM, if there is room on the original team. If there is no room on the team, then the player will be cut from the GM that claimed him.
Trades
Trades will be discussed amongst each GM, and will be posted in the trade forum section. Both owners must confirm in order for the trade to be processed. Trade deadline will be week 8 of the regular season.

Draft Pick Trades
In order to protect a team's future, the current year's and following year's draft picks are able to be traded. Trading draft picks 3 years away will not be permitted.
Challenging Trades
Any GM has the ability to challenge a trade. GM's can either notify the commissioner or the trade committee that they wish to protest the trade. Keep in mind this rule is to protect a team's future, not overturn potentially bad trades where compensation may be in another GM's favor.
Leadership
Commissioner - Frankie Pacious
Pacific President -
Atlantic President -
Trade Committee Chairman -
Trade Committee